Kingston Sideswipe Collision Lawyers
We Can Handle Your Hudson Valley Accident Case
A side impact between two fast moving vehicles can cause serious injuries to the vehicle occupants — especially the occupants of a smaller vehicle, such as a sideswipe of a compact car by an SUV. Sideswipe collisions usually occur because one driver was not paying attention and merged into a lane occupied by another vehicle. When sideswipes occur and cause significant damage or serious injury, the Kingston sideswipe collision attorneys at Basch & Keegan LLP step into action to hold negligent, reckless, or distracted drivers responsible for the damage they have done and the harm they have caused.
---
Send us a message or call (845) 251-4545 to schedule a free consultation with our legal team.
---
Causes and Types of Sideswipe Accidents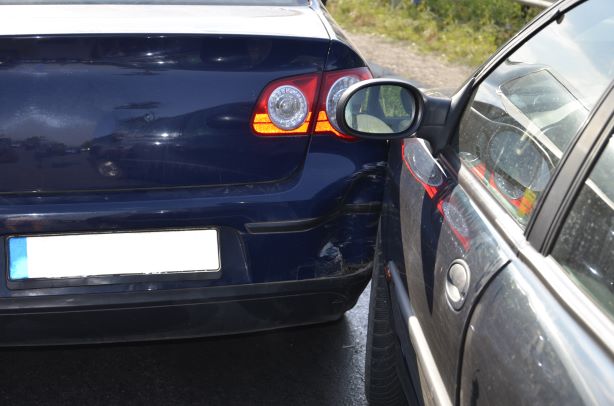 Sideswipe car accidents can occur in almost any traffic environment; including parking lots, intersections, and multi-lane roads. A frequent cause of sideswipe collisions is when a driver attempts a left turn from the right lane, or a right turn from the left lane — disregarding the likelihood of another vehicle in the other lane. Failing to yield the right-of-way in a turn situation is another frequent cause of sideswipe collisions.
Who Is At Fault in a Side-Swipe Collision?
Every vehicle has a duty to remain in its lane and not leave unless it is entirely safe to merge. The vehicle that leaves its lane of travel and makes driving conditions unsafe can be held liable for causing the accident.
Sideswipe accidents are not always the fault of the turning or merging vehicle. For instance, a car making a right turn from the appropriate outside right-hand lane may collide with a reckless or ignorant driver attempting to pass on the right shoulder.
Typically, a word of mouth account from drivers and witnesses will be more than enough to determine liability. It is not always as simple, however, to determine who is at fault. If the accounts contradict one another, more evidence may be needed. In some cases, the type of damage and the location of where the vehicles are can be clues to who is responsible.
Determining Fault While Merging
Merging takes place when a lane is about to end and the driver entering the lane will need to continue moving forward with the existing traffic. In most cases, the driver who is merging is at fault because the other party has the right of way. The merging driver is responsible for yielding to the traffic that is already moving forward. The vehicle that is not merging can also, however, carry some fault if they could have done something to avoid the accident.
Broadside Collisions — A Particularly Dangerous Type of Side Impact Accident
Broadside collisions — also known as T-bone collisions — happen when the front or rear of one vehicle hits the side of another vehicle, creating a T shape between the two vehicles. Depending upon factors such as the speeds of the vehicles, their size and weight, and safety features such as side-impact airbags, the force of a T-bone accident is likely to cause serious or catastrophic injury to the occupants of the vehicle that is broadsided. In a high-impact crash, the struck vehicle may roll over or spin out of control, striking other vehicles, pedestrians or stationary objects. T-boned cars are sometimes stuck together after an accident, with the parts of one vehicle folded around another.
Because of the way in which one vehicle crashes into another, side impacts are more likely than other types of car accidents to wind up involving multiple vehicles before the motions of the original vehicles come to rest. Victims of multi-car collisions face the potential for serious injuries because they are often impacted by vehicles after their airbags have already deployed, leaving them without that layer of crash protection.
Don't Wait. Call Us NOW!
If you have been the victim of a sideswipe collision or other car accident in the Hudson Valley, trust the attorneys at Basch & Keegan LLP to help you get the compensation you need to recover from the accident to the fullest extent possible.
---
Call (845) 251-4545 to schedule a free consultation. You can also fill out an online contact form.
---
The Opinions that matter Most
Serious injuries require genuine representation
This firm will fight for you and get results! We cannot recommend them enough!

"Above everything, John and Katie showed genuine concern for me and my family. It's clear how passionate John is about his work and doing what's best for his clients."

I will certainly recommend Maureen Keegan in the future!

"Throughout the 2+ years, Maureen Keegan continued to persevere on my behalf, contacting doctors, etc. and continually informing me of the status of my case."

Derek was extremely helpful and informative through every step of the way.

"Everyone in the firm was pleasant. Thank you for helping to achieve this victorious win! I highly recommend this amazing firm!"

Your first mistake would be not to call Basch & Keegan because they truly are the very best in every way.

"All of the attorneys treated me like family which is very important when you are injured. Derek Spada has become my personal friend and holds a special place in my heart forever."
Win the Fight

Basch & Keegan LLP is a nationally recognized trial practice that's been trusted by clients and colleagues across Upstate New York since 1987. Our Kingston personal injury lawyers have over 100 years of collective experience and have fought for over 10,000 victims during our time in practice.

When You're Hurt

We serve as the support system you can rely on as you begin your recovery. From explaining your rights, options, and what to expect with the personal injury claim process to working your case on contingency and connecting you with medical professionals who work on liens, we go the extra mile to ensure you can focus on getting better while we work on the legal aspects of your claim.

Get Results

At Basch & Keegan LLP, we have the resources and experience to help victims level the playing field with even the most powerful adversaries – and we have the record of success to back it up.

Regardless of Who You Ask

We place an emphasis on personal attention, cultivate close-working relationships, and provide step-by-step support. This approach allows us to create legal strategies custom-tailored to each client's unique circumstances and has earned us the respect of our peers.

The Community

Our Kingston-based lawyers have deep roots in the community and a lengthy history of giving back to Ulster County. When the community needs us, we are always here to help.
Contact us Today
Here to Help