Kingston Scaffold Accident Attorneys
Representing Workers Injured in a Scaffold Fall
Basch & Keegan LLP regularly represents Hudson Valley construction workers hurt on the job, including cases in which a worker was injured because of defective and dangerous scaffolding equipment. Scaffold injuries can be very serious and even fatal — requiring skilled legal counsel to determine the cause of the accident, uncover all potentially liable parties, and accurately assess present and future damages accountable to the injury.
Call Our Kingston Scaffold Accident Lawyers Today
In Most Cases, Scaffold Accidents and Injuries Are Preventable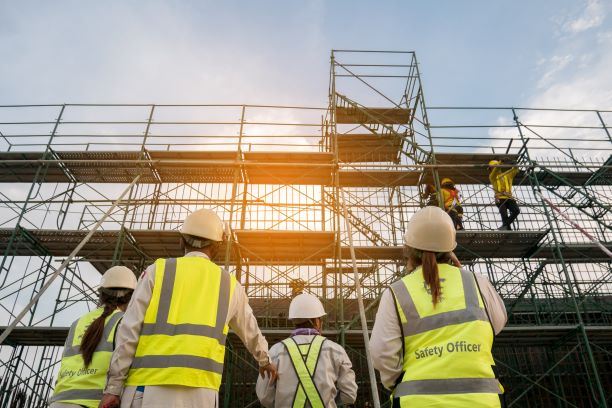 According to a Bureau of Labor Statistics (BLS) study, over 70% of workers injured in scaffold accidents attribute the accident to either planking or support giving way or to slipping or being struck by a falling object. Many of these incidents are preventable. With 65% of construction projects involving the use of scaffolding (according to the BLS), the likelihood of an unfortunate accident is high. According to OSHA, safety compliance and employer education can prevent approximately 4,500 accidents and save up to 50 lives annually.
What are the main hazards associated with Scaffolding?
Scaffolds are often an essential aspect of construction work. Due to their hazardous nature, it's crucial that workers have the correct training. When implemented properly, workers are able to avoid common scaffolding accidents, which include:
Falls

Scaffold Collapse

Falling tools and debris

Electrocution
What Factors Cause Most Scaffold Accidents?
In most cases, scaffold accidents are entirely preventable when following proper safety procedures. Most scaffold accidents are usually attributed to:
Failure to use guard rails and fall arrest systems to prevent falls from elevations
Failure to ensure proper scaffold construction and/or access
Overloading a scaffold with workers or equipment
Failure to routinely inspect a scaffold for visible defects
Failure to train workers to recognize hazards
Working on a scaffold during storms or high winds
Failure to barricade the area below the scaffold to avoid injuries caused by falling tools or debris
Failure to use panels, screens, canopies, or nets to contain or deflect falling objects
Failure to maintain required clearance distances between power lines and scaffolding to prevent electrocution
Failure to de-energize power lines and install protective covering to avoid electrocution
There is no excuse for failing to follow safety standards and creating an unnecessarily perilous environment for workers who are already engaged in dangerous tasks. The attorneys at Basch & Keegan LLP have successfully held liable parties responsible for scaffolding injuries outside of the New York workers' compensation system.
What to Do After a Scaffold Accident
After suffering injury from a scaffold accident, there are some key actions you should take to protect your rights and get the justice you deserve. Follow these steps thoroughly and your case will be stronger for it:
Get medical care immediately following the accident - Having these records and putting yourself on a course for recovery is essential.
Ensure that you obtain evidence from the accident scene, such as photographs and a written record of what occurred
Report the accident to the owner of the property as well as the construction property
Contact a professional attorney who can investigate the case
Don't Wait. Call Us NOW!
If you or a loved one has been hurt in a scaffold accident in Greene, Dutchess, Ulster, or the surrounding counties, please contact Basch & Keegan LLP for a free initial consultation. We handle even the most complex construction accident cases involving catastrophic injuries and complicated facts.
---
To schedule a free consultation with our scaffold accident attorneys in Kingston, complete our contact form or call (845) 251-4545.
---
This firm will fight for you and get results! We cannot recommend them enough!

"Above everything, John and Katie showed genuine concern for me and my family. It's clear how passionate John is about his work and doing what's best for his clients."

I will certainly recommend Maureen Keegan in the future!

"Throughout the 2+ years, Maureen Keegan continued to persevere on my behalf, contacting doctors, etc. and continually informing me of the status of my case."

Helpful & Honest

"John was quick to respond, helpful and honest regarding my situation and the questions I had. Also easy to talk to which is always appreciated!"

Derek was extremely helpful and informative through every step of the way.

"Everyone in the firm was pleasant. Thank you for helping to achieve this victorious win! I highly recommend this amazing firm!"

Extremely helpful law firm and staff

"Extremely helpful law firm and staff...John and his staff nothing but the best."
Here to Help Win the Fight

Backed by our experience and insight, we've become known for taking on the toughest claims. If you or someone you love has been injured by the negligence or wrongful acts of another, we're here to help you fight for the justice you deserve.

HERE TO HELP Get Results

At Basch & Keegan LLP, we have the resources and experience to help victims level the playing field with even the most powerful adversaries – and we have the record of success to back it up.

HERE TO HELP When You're Hurt

We serve as the support system you can rely on as you begin your recovery. We go the extra mile to ensure you can focus on getting better while we work on the legal aspects of your claim.

HERE TO HELP Regardless of Who You Ask

We place an emphasis on personal attention. This approach allows us to create legal strategies custom-tailored to each client's unique circumstances and has earned us the respect of our peers.

HERE TO HELP The Community

Our Kingston-based lawyers have deep roots in the community and a lengthy history of giving back to Ulster County. When the community needs us, we are always here to help.
Contact us Today
Here to Help