Kingston Forklift Accident Attorneys
Representing & Fighting for Victims of Forklift Accidents in the Hudson Valley
Forklifts are used in a variety of industries to move materials and heavy objects from one place to another. Forklifts (also called powered industrial trucks or lift trucks) are generally used to lift boxes, crates, and other items in warehouses and at construction sites. Forklift accidents can happen for a number of reasons and can injure not only the workers operating these machines, but other workers or members of the public as well. Forklifts are powerful machines that require operators and owners to use extreme caution.
If you or a loved one has been injured as a result of a forklift accident, it is important that you seek the advice of an experienced Kingston forklift accident lawyer at Basch & Keegan LLP. Our attorneys have handled and litigated many different types of construction accidents, including forklift accidents.
If you are interested in speaking with our legal team, send us a message or call (845) 251-4545 to schedule a free consultation.
Examples of Forklift Accidents
Although employers are required by law to ensure that all of their forklift operators are trained and certified, accidents do still happen. When operating heavy machinery such as a forklift, any number of things can go wrong. Risk factors for forklift accidents often depend on the type of industry and environment in which they are being used. Some of the most common risk factors include uneven operating surfaces; oversized weight of the object being lifted; inexperienced operator's error; failing to clear the work area; and poor maintenance of the machine, which results in unanticipated movement of the machine. These accidents frequently result in "crush injuries" to the operator or other persons standing near or under the load.
In a warehouse setting, a sit-down forklift has greater potential than a hand truck to be involved in a load falling accident because of its ability to lift a load higher. In those cases, workers will lift a load from a lower shelf to a higher shelf (or visa versa) — but then the load becomes unstable, causing the load to fall onto the worker or another employee. Similarly, when used in a space open to the public, there is a greater risk of that load falling onto a pedestrian and causing serious injuries. Employees in settings that use forklifts might also be injured when forklifts are driven off or fall off of loading docks.
Damages Recoverable in Forklift Accidents
Like many other personal injury cases, if you have sustained injuries as a result of a forklift accident, you may be entitled to monetary compensation. If you are a worker who is injured by a forklift while on the job, you should submit your claim to your employer's workers' compensation insurance company. Worker's compensation is designed to help you avoid financial distress during your recovery.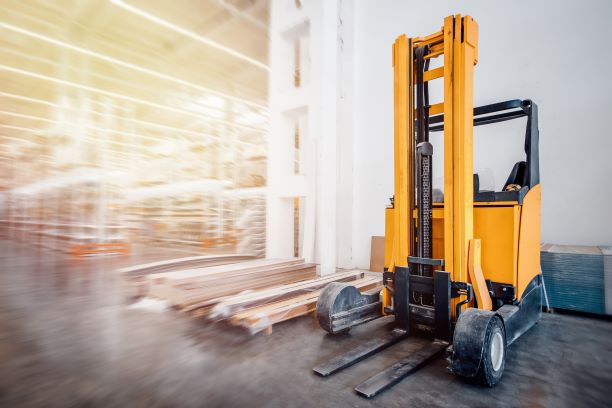 Under the law, workers' compensation will pay your medical expenses as well as lost wages until you can return to work. While workers' compensation is well-intended to limit your financial exposure, it was not designed to compensate you for your pain and suffering. This is precisely why you need to call the lawyers at Basch & Keegan LLP — they know how to get you all the money you deserve.
If you were not working at the time of the accident, you should submit all medical bills to your health insurance company. Your damages will include loss of income (past and future), pain and suffering, and medical expenses/costs. The damages that might be available to you will depend on the facts surrounding the forklift accident, so it is important that you speak with a qualified forklift accident attorney in Kingston right away. The attorneys at Basch & Keegan LLP are experienced and will aggressively litigate your case to maximize your recovery.
Proving Liability in a Forklift Accident
If you suffered injury on a construction site from or while operating a forklift, you may be able to prove that another party is liable for the damages you suffered. There are several parties who may be found negligent and held liable for the accident, including the operator, manufacturer, or a third-party. Here are the steps to proving liability:
The other party owed you a duty of care

The other party breached their duty of care

This breach resulted in the accident

You suffered physical or emotional damages from the accident
If you suffered injuries from the forklift accident, reach out to our team at Basch & Keegan LLP for assistance navigating your case. We are here to provide you with the help and legal guidance you need during this emotionally heavy time.
Call Us Today if You Have Been Injured in a Forklift Accident
Only an experienced Kingston forklift accident lawyer can properly advise you of your rights and of the next steps to take on your case. The attorneys at Basch & Keegan LLP are ready to speak with you about your forklift accident case.
Contact us today for a free consultation — send us a message or call (845) 251-4545 to reach our firm.
The Opinons that matter Most
Serious injuries require genuine representation
John was quick to respond, helpful and honest

"

John was quick to respond, helpful and honest regarding my situation and the questions I had. Also easy to talk to which is always appreciated!

"

Strong and Persistent

"Strong and Persistent"

Best of the best of the best!

"Compassionate, dedicated, professional...Eli, Maureen, Derek, John, and all the staff."

Professional, Responsive & Communicative

"

Maureen and her crew do one heck of a job!!!!

"

Extremely responsive, even after hours!

"Highly recommended!"
We Understand How You Feel

We recognize the difficulty that injury victims face. Let us take some of the weight off your shoulders.

Personalized & Passionate Representation

We consistently obtain excellent results because our opponents know we don't back down. We are ready to fight for you.

A History of Success

We've recovered tens of millions of dollars in compensation for personal injury victims in the Hudson Valley. Ask your friends and neighbors about us.

For Us, Every Case Is Personal

Our attorneys spend significant time with each and every client, explaining the legal process and ensuring that our clients understand their options at every stage of their case.

Proven Strategy for Getting Exceptional Settlements

We work hard for our clients and prepare each case for trial. This proven strategy enables us to obtain higher settlement values on behalf of our clients.
Contact us Today
Here to Help