Kingston Slip and Fall Accident Lawyers
We Hold Negligent Property Owners Accountable
At Basch & Keegan LLP, our slip and fall injury accident attorneys in Kingston represent slip, trip, and fall injury accident victims in claims arising from dangerous or hazardous property conditions. As an injury-only law firm with 30 plus years of experience, we know how to deal with insurance companies and at-fault parties, using proven tactics to receive maximum settlement offers on behalf of our clients.
On This Page:
Complete our contact form or call (845) 251-4545 24/7 to schedule a free consultation with our Hudson Valley legal team.
Slip, trip, and fall accidents are one of the most common causes of personal injury, only after automobile accidents.
Our team has significant experience representing individuals in the following situations:
Grocery store negligence: This can include any injuries resulting from unsafely stocked items, missing warning signs regarding potential dangers, and items on the floor (including water) that can cause you to slip and fall.
Property accidents: This can include residential or commercial property in which uneven pavement, lifted sidewalks, fallen trees and branches, or other hazards create a problem for individuals.
Apartment building problems: This can include any problem involving broken and failed handrails, stairway dangers, items sitting on the stairs, or problems on individual balconies (failed railings).
Commercial or federal buildings: This can include any issues involving defective or failed elevators, escalators, electrical wiring, or lifted carpet.
It's essential to your success to work with a personal injury attorney soon after the slip and fall accident occurs. It's easy for property owners to try and work fast to fix the hazard that has led to your injury, so it becomes of the utmost priority to act with urgency when getting evidence.
The slip and fall injury lawyers at Basch & Keegan LLP are ready and committed to provide you with the thorough investigation you need to pursue a slip and fall accident claim against a negligent property owner. We'll be there with the necessary knowledge and resources, working to show that there was a reason you fell that stemmed from someone's negligence.
A slip and fall accident can happen to anyone, anywhere, at any time. Whether you slip on a wet floor in a grocery store or trip over an uneven sidewalk, it's important to know what to do after a slip and fall accident to protect your health and your legal rights.
The first thing you should do after a slip and fall accident is seek medical attention. Even if you feel okay, you may have suffered an injury that isn't immediately apparent. Some injuries, like a concussion or a back injury, may not show symptoms until hours or even days after the accident. Getting checked out by a medical professional can ensure that you receive the care you need and can also provide important documentation of your injuries for any legal claims.
You should also document the accident and any injuries you suffered. Take photos of the area where the accident occurred, including any hazards that may have contributed to your fall. If there were any witnesses to the accident, get their contact information so they can provide a statement if necessary. Keep track of any medical bills, missed work, or other expenses related to the accident, as these may be relevant to a legal claim.
Finally, it's important to consult with a lawyer if you've been injured in a slip and fall accident. A lawyer who specializes in slip and fall claims can help you determine whether you have a case and can advise you on the best course of action. They can also handle communications with insurance companies and help ensure that you receive fair compensation for your injuries and related expenses.
Remember, if you've been injured in a slip and fall accident, you have legal rights. By taking the right steps after the accident, you can protect those rights and get the help you need to recover.
Have you been seriously hurt after visiting another person's property? Slip and fall injuries typically fall under a premises liability category which means you may be able to collect financial compensation if it is proven that the owner or manager of the premises failed to address hazards to visitors. Speaking with a knowledgeable attorney is the best way to determine whether your slip and fall accident is grounds for a lawsuit.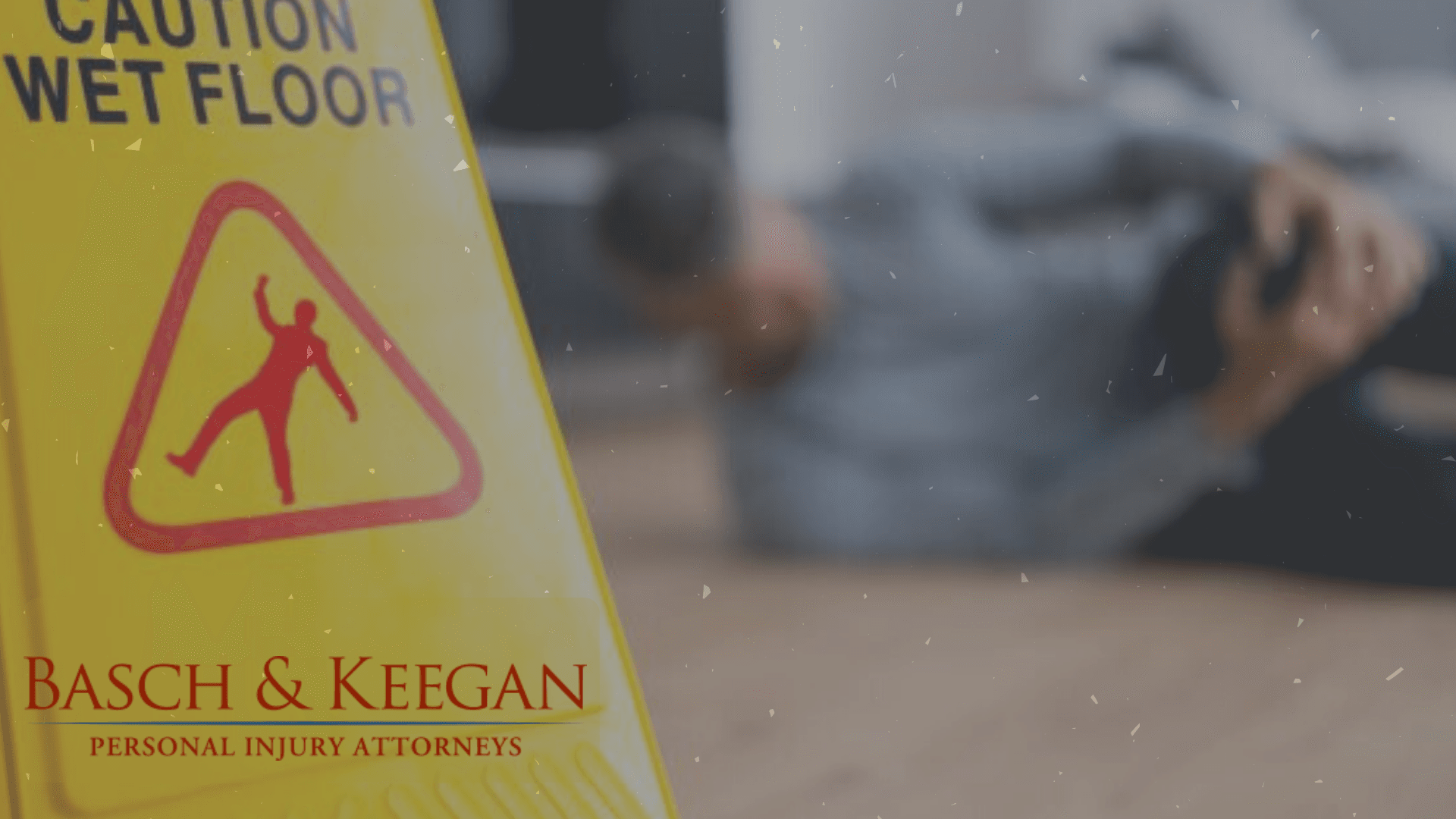 In New York, liability for a slip and fall accident will depend on a variety of factors, including the cause of the accident, the location of the accident, and the parties involved. Generally, property owners and managers have a duty to maintain their premises in a safe condition and to warn visitors of any known hazards. If they fail to do so and someone is injured as a result, they may be held liable for the injuries.
In some cases, the property owner or manager may be the only party liable for a slip and fall accident. For example, if a customer slips on a wet floor in a grocery store because an employee failed to put up a "wet floor" sign, the store may be held liable for the customer's injuries.
In other cases, multiple parties may share liability for a slip and fall accident. For example, if a tenant slips on an icy sidewalk outside of their apartment building, both the property owner and the tenant may be held liable if they failed to clear the ice.
It's also worth noting that New York follows a comparative negligence system when it comes to liability for slip and fall accidents. This means that if the injured party is found to have contributed to their own injuries in some way, their compensation may be reduced by the percentage of fault assigned to them.
Proving liability in a slip and fall accident case requires you and your legal team to show that the owner of the property (or other party responsible for maintenance) was aware of the hazard, yet they did nothing to fix the issue or warn legal visitors of the issue. As a result, you or someone else can suffer a significant injury, making the property owner or other responsible party negligent.
If you've been injured in a slip and fall accident, you may be wondering if you need a lawyer to help you navigate the legal process. The answer to this question will depend on several factors, such as the severity of your injuries, the extent of your medical bills, and the extent of the liability of the property owner or responsible party.
In many cases, it's a good idea to hire a lawyer if you've been injured in a slip and fall. A skilled attorney can help you understand your legal options and pursue the compensation you deserve.
Some of the ways in which a lawyer can help you include:
Investigating the Accident: An experienced lawyer can thoroughly investigate the circumstances surrounding your slip and fall accident. This includes reviewing the accident report, interviewing witnesses, and gathering any other evidence that can help establish liability.
Negotiating with Insurance Companies: Insurance companies are notorious for offering lowball settlements to accident victims. A lawyer can negotiate with the insurance company on your behalf to ensure you receive fair compensation for your injuries.
Filing a Lawsuit: If negotiations with the insurance company fail, a lawyer can file a lawsuit on your behalf. This can be a complicated process, but an experienced attorney can guide you through every step of the way.
Proving Liability: In slip and fall cases, it's important to establish who was responsible for the accident. A lawyer can help you gather evidence to prove liability, such as maintenance records or witness testimony.
Calculating Damages: A slip and fall accident can result in significant medical bills, lost wages, and other expenses. An attorney can help you calculate the total damages you're entitled to and pursue compensation to cover these costs.
Overall, while it's not strictly necessary to hire a lawyer for a slip and fall accident, it's usually a good idea to do so.
If you have suffered injury during a slip and fall incident, you are likely wondering how much you are capable of obtaining from a settlement. In general, the average settlement for a slip and fall is anywhere between $15,000 and $45,000. Your case may not, however, fall within the range of the average settlement.
If your injuries are serious and your case holds strong, your settlement may be higher than the average. If your slip and fall injuries are minor, however, you may not receive the average settlement. If you want to have a better idea of the results you can obtain from your case, reach out to our slip and fall accident attorney.
Get help if you have been injured in a slip and fall accident. You may be able to receive compensation for your injuries.
Our slip and fall injury accident lawyers in Kingston will evaluate your case for free and answer any questions you have when you call (845) 251-4545 or send us a message. Don't wait… we have important advice and there is no fee unless we win.
This firm will fight for you and get results! We cannot recommend them enough!

"Above everything, John and Katie showed genuine concern for me and my family. It's clear how passionate John is about his work and doing what's best for his clients."

I will certainly recommend Maureen Keegan in the future!

"Throughout the 2+ years, Maureen Keegan continued to persevere on my behalf, contacting doctors, etc. and continually informing me of the status of my case."

Helpful & Honest

"John was quick to respond, helpful and honest regarding my situation and the questions I had. Also easy to talk to which is always appreciated!"

Derek was extremely helpful and informative through every step of the way.

"Everyone in the firm was pleasant. Thank you for helping to achieve this victorious win! I highly recommend this amazing firm!"

Extremely helpful law firm and staff

"Extremely helpful law firm and staff...John and his staff nothing but the best."
Here to Help Win the Fight

Backed by our experience and insight, we've become known for taking on the toughest claims. If you or someone you love has been injured by the negligence or wrongful acts of another, we're here to help you fight for the justice you deserve.

HERE TO HELP Get Results

At Basch & Keegan LLP, we have the resources and experience to help victims level the playing field with even the most powerful adversaries – and we have the record of success to back it up.

HERE TO HELP When You're Hurt

We serve as the support system you can rely on as you begin your recovery. We go the extra mile to ensure you can focus on getting better while we work on the legal aspects of your claim.

HERE TO HELP Regardless of Who You Ask

We place an emphasis on personal attention. This approach allows us to create legal strategies custom-tailored to each client's unique circumstances and has earned us the respect of our peers.

HERE TO HELP The Community

Our Kingston-based lawyers have deep roots in the community and a lengthy history of giving back to Ulster County. When the community needs us, we are always here to help.
Contact us Today
Here to Help