Kingston Distracted Driving Accident Attorneys
Victims of Distracted Driving Need Experienced Accident Lawyers in the Hudson Valley
Car accidents are the number one cause of injury and death for New Yorkers. This is a terrible statistic, especially given the fact that most accidents are avoidable and are due to driver error or distraction. Distracted driving is defined as performing some other activity while driving, which affects the driver's ability to concentrate on the road. Distracted driving is illegal in New York, and if you have been injured as a result of someone else's failure to keep their eyes on the road, then you may be entitled to compensation!
To schedule a free consultation with our Kingston distracted driving accident lawyers, complete our contact form or call (845) 251-4545. Our team is available 24/7!
Drivers Can be Distracted in Different Ways
Looking away from the road — even for a few seconds — can cause an accident. The National Highway Traffic Safety Administration (NHTSA) routinely cites driver distraction or driver inattention as the number one cause of automobile accidents.
Distractions can be:
External — Looking at other drivers, scenery, or other accidents

Internal — Distractions taking place within the vehicle such as children, animals, or other passengers

Personal — Eating, applying makeup, using cell phones or electronic devices
Talking or Texting While Driving is Illegal in New York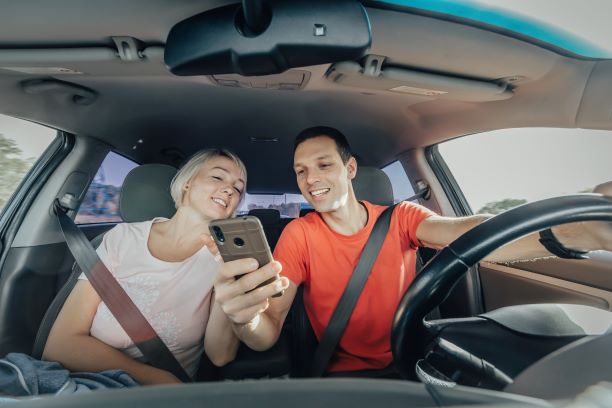 With the onset of mobile devices and the desire to constantly connect on social media, drivers are more and more prone to be distracted while driving. Texting, making phone calls, taking photos, sending emails, and searching the web while driving are all prohibited. New York law expressly prohibits the use of electronic devices while driving. Fines for using electronic devices while driving range from $50-$450. Additionally, distracted driving by probationary drivers and learning drivers can result in suspension or revocation of a license or permit.
Not only can drivers be fined for using electronic devices while driving, they can also cause serious accidents. In fact, the most common source of distracted driving is now due to cell phone use while driving — especially texting. Distracted driving due to cell phone use is the highest among teenage drivers. Considering the fact that teen drivers have the highest rate of car crashes among any age group, distracted driving is certainly a problem.
Call Us Today If You Have Been Injured Due to A Distracted Driver
If you or a loved one has been hurt due to a distracted driver, please contact Basch & Keegan LLP today for a free consultation. There are time limits in which you need to adhere to in order to file your claim, but you pay no legal fees until we get you compensated.
Send us a message or call (845) 251-4545 to schedule a free consultation with our distracted driving accident lawyers in Kingston.
The Opinons that matter Most
Serious injuries require genuine representation
John was quick to respond, helpful and honest

"

John was quick to respond, helpful and honest regarding my situation and the questions I had. Also easy to talk to which is always appreciated!

"

Strong and Persistent

"Strong and Persistent"

Best of the best of the best!

"Compassionate, dedicated, professional...Eli, Maureen, Derek, John, and all the staff."

Professional, Responsive & Communicative

"

Maureen and her crew do one heck of a job!!!!

"

Extremely responsive, even after hours!

"Highly recommended!"
We Understand How You Feel

We recognize the difficulty that injury victims face. Let us take some of the weight off your shoulders.

Personalized & Passionate Representation

We consistently obtain excellent results because our opponents know we don't back down. We are ready to fight for you.

A History of Success

We've recovered tens of millions of dollars in compensation for personal injury victims in the Hudson Valley. Ask your friends and neighbors about us.

For Us, Every Case Is Personal

Our attorneys spend significant time with each and every client, explaining the legal process and ensuring that our clients understand their options at every stage of their case.

Proven Strategy for Getting Exceptional Settlements

We work hard for our clients and prepare each case for trial. This proven strategy enables us to obtain higher settlement values on behalf of our clients.
Contact us Today
Here to Help