Kingston Distracted Driving Accident Attorneys
Victims of Distracted Driving Need Experienced Accident Lawyers in the Hudson Valley
Car accidents are the number one cause of injury and death for New Yorkers. This is a terrible statistic, especially given the fact that most accidents are avoidable and are due to driver error or distraction. Distracted driving is defined as performing some other activity while driving, which affects the driver's ability to concentrate on the road. Distracted driving is illegal in New York, and if you have been injured as a result of someone else's failure to keep their eyes on the road, then you may be entitled to compensation!
---
To schedule a free consultation with our Kingston distracted driving accident lawyers, complete our contact form or call (845) 251-4545. Our team is available 24/7!
---
Drivers Can be Distracted in Different Ways
Looking away from the road — even for a few seconds — can cause an accident. The National Highway Traffic Safety Administration (NHTSA) routinely cites driver distraction or driver inattention as the number one cause of automobile accidents.
Distractions can be:
External — Looking at other drivers, scenery, or other accidents
Internal — Distractions taking place within the vehicle such as children, animals, or other passengers
Personal — Eating, applying makeup, using cell phones or electronic devices
Talking or Texting While Driving is Illegal in New York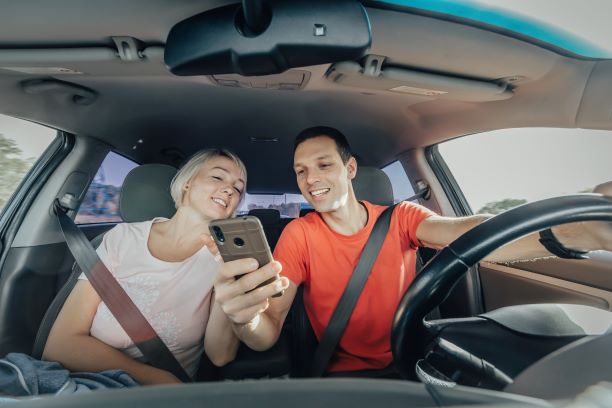 With the onset of mobile devices and the desire to constantly connect on social media, drivers are more and more prone to be distracted while driving. Texting, making phone calls, taking photos, sending emails, and searching the web while driving are all prohibited. New York law expressly prohibits the use of electronic devices while driving. Fines for using electronic devices while driving range from $50-$450. Additionally, distracted driving by probationary drivers and learning drivers can result in suspension or revocation of a license or permit.
Not only can drivers be fined for using electronic devices while driving, they can also cause serious accidents. In fact, the most common source of distracted driving is now due to cell phone use while driving — especially texting. Distracted driving due to cell phone use is the highest among teenage drivers. Considering the fact that teen drivers have the highest rate of car crashes among any age group, distracted driving is certainly a problem.
Call Us Today If You Have Been Injured Due to A Distracted Driver
If you or a loved one has been hurt due to a distracted driver, please contact Basch & Keegan LLP today for a free consultation. There are time limits in which you need to adhere to in order to file your claim, but you pay no legal fees until we get you compensated.
---
Send us a message or call (845) 251-4545 to schedule a free consultation with our distracted driving accident lawyers in Kingston.
---
This firm will fight for you and get results! We cannot recommend them enough!

"Above everything, John and Katie showed genuine concern for me and my family. It's clear how passionate John is about his work and doing what's best for his clients."

I will certainly recommend Maureen Keegan in the future!

"Throughout the 2+ years, Maureen Keegan continued to persevere on my behalf, contacting doctors, etc. and continually informing me of the status of my case."

Helpful & Honest

"John was quick to respond, helpful and honest regarding my situation and the questions I had. Also easy to talk to which is always appreciated!"

Derek was extremely helpful and informative through every step of the way.

"Everyone in the firm was pleasant. Thank you for helping to achieve this victorious win! I highly recommend this amazing firm!"

Extremely helpful law firm and staff

"Extremely helpful law firm and staff...John and his staff nothing but the best."
Here to Help Win the Fight

Backed by our experience and insight, we've become known for taking on the toughest claims. If you or someone you love has been injured by the negligence or wrongful acts of another, we're here to help you fight for the justice you deserve.

HERE TO HELP Get Results

At Basch & Keegan LLP, we have the resources and experience to help victims level the playing field with even the most powerful adversaries – and we have the record of success to back it up.

HERE TO HELP When You're Hurt

We serve as the support system you can rely on as you begin your recovery. We go the extra mile to ensure you can focus on getting better while we work on the legal aspects of your claim.

HERE TO HELP Regardless of Who You Ask

We place an emphasis on personal attention. This approach allows us to create legal strategies custom-tailored to each client's unique circumstances and has earned us the respect of our peers.

HERE TO HELP The Community

Our Kingston-based lawyers have deep roots in the community and a lengthy history of giving back to Ulster County. When the community needs us, we are always here to help.
Contact us Today
Here to Help