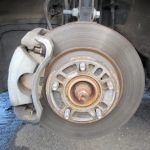 When Nicholas picked up his daughter from school and headed home for dinner after a long day at work, the last thing he expected was that a mechanic had put his life in danger.
Nicholas had his car serviced at a Kingston, NY garage a few days earlier. The work was routine, four tires changed and brakes serviced. The next day, he drove to work in the Bronx – all was fine. At the end of the day, Nicholas drove the car to pick up his daughter from school and they headed home. The car began to shake violently and the front driver's side tire came loose while they were traveling at 45 mph. Nicholas immediately held his arm out across his daughter's body in an effort to protect her. The car traveled another 100 feet before it came to a halt on the side of the road.
Nicholas' biggest concern was that his daughter was put in danger, by the work completed by the service mechanic. Thankfully, she was not harmed in the incident but Nicholas, on the other hand, had chronic pain in his right shoulder and hand from instinctually protecting her. It turned out that he had seriously injured his neck and spine at the base of his skull.
After Nicholas told us his story, our job was to prove his accident was the mechanic's fault – in legal terms: establishing liability and negligence. We brought in an expert mechanic who evaluated photographs of the wheel, rim, bolts, and wheel well. He was able to determine that the oblong shape of the bolt holes in the wheel rim was evidence that the mechanic who changed out the tires on Nicholas' car did not refasten the lug-nuts to the bolts on the driver's side wheel.
Nicholas was awarded $95,000 in a settlement with the defendant, who originally wanted to settle for between $65,000 and $75,000. We knew what he deserved, and the defense's offer was not enough, so we pushed to take the case to trial.
The defense lawyers didn't want to pay more because Nicholas did not miss any time from work and made a strong recovery. We knew better. We were confident that an Ulster County jury wouldn't punish Nicholas for working hard for the benefit of his daughter. The defense knew that as trial lawyers, we fight harder than ever for our clients in the courtroom, so they settled for $95,000 one week before trial.
Nicholas was an excellent client. He took a stand against poor work that puts people in danger. His affable personality and extreme responsiveness immediately increased the value of his case. We truly wish him (and his family) all the best and thank him for his kind words about our services; you can read his testimonial here.