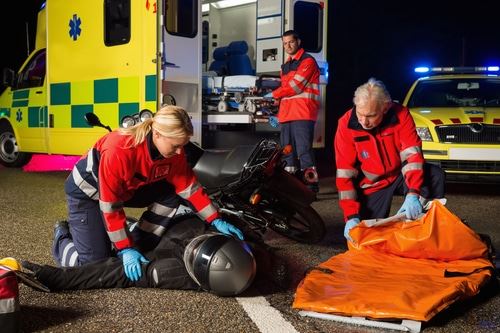 Distracted driving has increased the number of motorcycle accidents. The weather in Upstate New York has finally broken, just in time for "Motorcycle Safety Awareness Month.
While the rate of motor vehicle-related fatalities has declined in recent years due to increased safety components, the number of motorcyclists injured or killed each year continues to climb. The lawyers at Basch & Keegan believe this is due, in part, to distracted driving.
Basch and Keegan recently settled a case involving a motorcycle-vs.-car accident. In this case, the motorcyclist (our client) was struck by a distracted driver. The accident occurred last June in Saugerties, New York. Our client was driving his motorcycle home from work when he was struck by another driver who claims he did not see the motorcyclist in the road, which is hard to believe considering our client had a headlight system specially designed to help other drivers perceive his presence in the roadway. As the motorcyclist passed by the car, the offending driver failed to yield right of way by executing an unsafe left turn. In doing so, the offending driver violated multiple sections of New York State's Vehicle and Traffic Law.
As a result of the accident, our client was ejected from his motorcycle and landed on the highway approximately fifty feet from where the collision had occurred.
He suffered severe and permanent injuries, including a broken pelvis, broken wrist, sprained back muscles, and a mild Traumatic Brain Injury (TBI). He was transported from the scene of the accident to Albany Medical Center Hospital where he underwent multiple corrective surgeries. Our client has made a tremendous recovery but initially, he was confined to his bed for more than one month and his home for five months.
The client's parents, who had worked with Basch & Keegan in the past, called the office on the day of the accident. The very next day, John DeGasperis drove up to Albany Medical Center Hospital to meet with him and to reassure him he would do everything he could to help him. John commenced an investigation that day by visiting the scene of the accident and hiring a private investigator to interview witnesses and to take photographs and measurements of the scene.
In addition to the complex legal and medical issues that arose within the context of this case, it also involved several unusual insurance-related problems. The first major problem arose very early on in the case, when it was discovered the client's insurance company failed to provide him information regarding his option to buy Personal Injury Protection (PIP) benefits, sometimes referred to as No-Fault benefits. Insurance companies hate offering PIP or No-Fault to their motorcycle customers because when those individuals are injured in a motorcycle accident the medical bills are often expensive. To avoid incurring these costs, liability insurance companies don't tell motorcyclists to buy PIP or No-Fault coverage. Due to the client being inadequately insured, there was fear the client's settlement would be consumed by medical bills. To avoid this injustice, John conducted extensive research and employed an unusual course of action by holding the homeowner of the residence where the teenage-driver lived accountable for failing to supervise the use of the vehicle and ensuring the teen was capable of operating the car in a reasonably safe manner. The strategy worked as the homeowner's insurance company contributed to the settlement.
John fought especially hard for this client because his pain, suffering, and damages were so devastating and permanent he would not be able to return to work for at least a year. The outcome of the case involved a six-figure settlement in favor of our client, which will cover his medical bills and time spent in recovery.
We Want to Remind Motorists to Share the Road With Motorcyclists and to Be Alert and Vigilant at All Times
Remember you are inside a vehicle that contains steel roll bars, seatbelts, and many other safety features. Motorcyclists, on the other hand, are completely exposed. Riders, you are reminded to make yourselves visible to all other motorists and to always wear helmets. Basch and Keegan is committed to protecting motorcyclists injured by negligent and distracted drivers.